ABOUT NAMEDROPS
NAMEDROPS IS A GRAPHIC DESIGN COMPANY SPECIALIZING IN MARKETING AND SELLING PRODUCTS, CONCEPTS AND IDEAS.  FOR THE PAST TEN YEARS WE HAVE HELPED DOZENS OF COMPANIES MAKE THEIR INCREDIBLE VISIONS A REALITY.  WE HAVE THE ABILITY TO DESIGN AN IMAGE AND THEN PRINT THAT IMAGE ON TO JUST ABOUT ANYTHING.
ONE PROJECT WE ARE PARTICULARLY PROUD OF IS WWW.3HEARTSTRINGS.ORG.  3 HEART STRINGS IS A NOT-FOR-PROFIT COMPANY OWNED BY FOUR YOUNG TEENAGERS.  THESE GIRLS RAISED OVER $180,000.000 FOR THE VICTIMS AND FAMILIES OF THE MARJORY STONEMAN DOUGLAS SCHOOL SHOOTING.  NAMEDROPS WAS INSTRUMENTAL IN HEADING THEIR SOCIAL MEDIA CAMPAIGN, WHICH ENDED UP GOING VIRAL.  WE ARE BEYOND PROUD OF THESE GIRLS AND HOW DEDICATED THEY ARE TO HELPING THE WORLD BECOME A BETTER PLACE.
SO WHAT EXACTLY CAN WE DO:
1. DESIGN SOCIAL MEDIA CONCEPTS
2. DESIGN PRINT MEDIA CONCEPTS
3. DESIGN AND PRINT PRODUCTS
4. DESIGN AND PRINT ANY TYPE OF MARKETING PRODUCT
5. HELP WITH WEB DESIGN
6. CREATE ENTIRE PRODUCT LINES
7. POS, WHOLESALE AND RETAIL DISTRIBUTION (MORE THAN 30 YEARS OF EXPERIENCE)

IN ADDITION TO ALL OF THE ABOVE, NAMEDROPS ALSO HAS A SEPARATE COMPANY CALLED NAMEDROP GIRL.  WE HAVE OUR OWN UNIQUE DESIGNS THAT WE PRINT ON JUST ABOUT ANYTHING. OUR BEST SELLING PRODUCT, WITHOUT A DOUBT, IS OUR PERSONALIZED BLANKET.  WE ALSO SPECIALIZE IN DIFFERENT PRODUCTS (MANY PERSONALIZED) FOR KIDS GOING TO SLEEP-AWAY CAMP.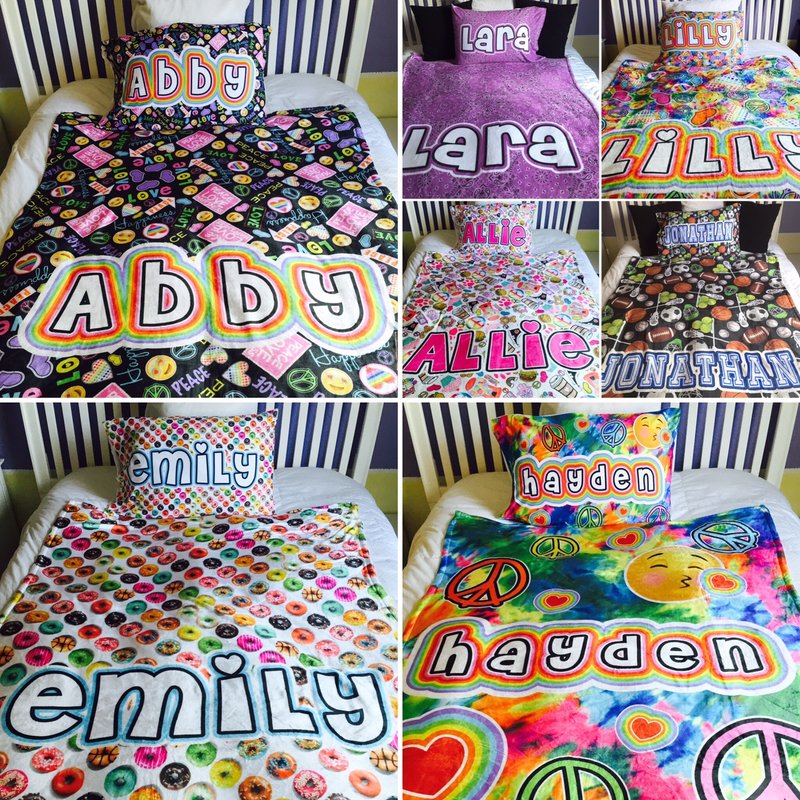 OUR "HOME BASE" IS IN FLORIDA.  WE SHIP ANYWHERE IN THE US!  MANY OF OUR PRODUCTS ARE MADE TO ORDER SO PLEASE ALLOW 2-5 WEEKS FOR DELIVERY.  


ALTHOUGH YOU CAN ORDER DIRECT FROM OUR WEBSITE - WE SELL TO MANY STORES AROUND THE U.S. AND WILL BE HAPPY TO DIRECT YOU TO A LOCAL VENDOR.  
IF YOU HAVE ANY QUESTIONS OR WOULD LIKE TO GET INFORMATION ON BECOMING A NAMEDROPS RETAILER, PLEASE CALL 561.703.6571 OR EMAIL
sales@shopnamedrops.com
WE CAN'T WAIT TO WORK WITH YOU TO HELP YOUR VISION BECOME A  SUCCESS.
XO